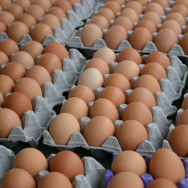 We like to experiment at the Vista Farmers Market! To date we have:
held a contest to create a customer designed Farmers Market Soap made by our resident market soapmaker, suggested and voted on by customers;
sponsored the Farmers Market Cafe, an endeavor begun by farmers to provide hot food from their own product and other produce sourced from the farmers at the Vista Farmers Market. They create one or two dishes each week and shopper can name their price;
recycled bags, pots, containers, egg cartons, green waste, coffee grounds, and corks;
eliminated the use of vinyl banners and paper towels and we try to avoid plastic;
accepted EBT (food stamps) and WIC, the largest market in the county to do so.
We have taught gardening classes, launched wheresgeorge bills, tested numerous annual events, helped local nonprofits, held a farmer/vendor garage sale, given away hundreds of pieces of birthday cake on the market's birthday,  bulk-bought farmer/vendor necessities, host a book exchange, trained potential farmers and vendors, created a farmers market handbook, created icebreakers for customers and farmers, designed an innovative hand-wash station, rolling table/carts, unique and flexible market signage, the vendor's guide to Ultimate Happiness, and we keep trying new things like last year's holiday season Gift Box Service, Box + Basket.