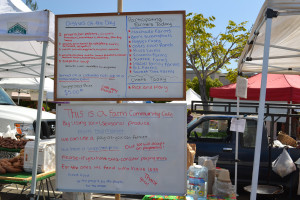 The Vista Farmers Market has a wide variety of ready-to-eat food available for purchase every Saturday morning including crepes, gyros, kettle-made Popcorn, Hawaiian Ice, stuffed baked potatoes, rolettos, tacos, tamales, roasted chicken, coffee, smoothies, and foods as made in Ghana, and Vietnam, Belgian waffles and fries, oatmeal, and more.
The most unique food stand is the Vista Farm Cafe, run by a local farmer, and featuring fresh vegetables and other foods sourced directly from the farmers at the Vista Farmers Market.  No other farmers market stand in California makes their dishes from produce from the market's farmers.  AND there is always a dish that you can pay whatever you wish.
Come out and take a taste.